It's Financial Peace University … PLUS so much more! You get an entire suite of Ramsey Solution's best money tools so you can live and give like no one else. Ramsey+ includes a FULL YEAR of Ramsey+, including Financial Peace University, online money management tools, and much, much more! The best part is that Ramsey+ is now FREE! (regularly $130).
Ramsey+ is a life-changing resource that will challenge, inspire, and motivate you to eliminate debt, be a good steward, and live and give like God wants you to. Money should be an opportunity, not an obstacle.
Financial Peace University
---
No more money stress—ever! It's possible when you know how to handle your finances. Join our virtual Financial Peace University class, and we'll learn how to dump debt and build wealth. You won't even have to leave home. 
Financial Peace University is included with Ramsey+; therefore, a Ramsey+ membership is required to attend FPU. Guess what? Ramsey+ is free!
New sessions begin soon! For more information questions, please contact fpu@trinityklein.org.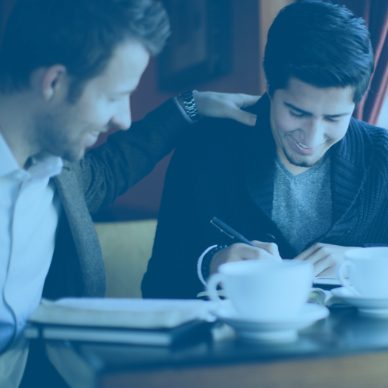 Are you tired of living paycheck to paycheck and having to scrape by every month? Patrick Johnston with AIM Financial Coaching will help you take control of your finances through intentional monthly budgeting and saving so that you can live your best life and be who you were meant to be!
Patrick Johnston is a Trinity Klein member and Ramsey Preferred Coach.
Ramsey Preferred Coaches are independent financial coaches offering personal finance coaching and education to help empower you to take charge of your money. Ramsey Preferred Coaches are not employees or agents of Ramsey Solutions and their services are not warranted or guaranteed by Ramsey in any way. Ramsey Preferred Coaches complete training through Ramsey Solutions and pay a fee to be part of the coaching program. Ramsey Solutions does not offer tax, legal, accounting or other professional advice of any kind.
I am a Jesus follower, mother, and newly divorced. Especially in my current season, I need to know what money is coming in and where it is going, but I knew I needed help to get started. FPU has been life-changing. It has equipped me to teach my children to think differently. I want them to know how to give generously, how to save – both for an emergency but also for fun, and how to manage their personal finances. And, I want to leave them an inheritance both in wealth and in knowledge. How can I lead them if I'm not doing it myself?
My mindset has completely changed since starting FPU. I have learned so much in such a short time. With the Ramsey+ suite, I have access to financial professionals, lessons, an entire community of people walking this same 'weird' journey with me, and easy to use budgeting tools in the palm of my hand. I am blessed beyond measure and look forward to seeing how God uses me to be outrageously generous! —Ann
FPU helped our family open our eyes to take back our income. During the all virtual 12-week course we used Ramsey+. It is very user friendly and easy to navigate. We are on baby step 2, but I can't wait to work through all the baby steps and eventually get to unbelievable generosity! During the course, I lost my job. Usually, a job loss would be an incredibly stressful time, but since I was in FPU and knew our numbers to the tee (4 walls & debts), it was viewed as something that we could make it through. I look forward to being able to have our debt-free scream, and will continue the practices I've learned. Thanks to Dave Ramsey and his FPU team for making a difference in our family's future! —Kimmie Stone
I took the Financial Peace University class that began in June and ended in September of this year through Trinity's special offer with Ramsey Plus. It was very beneficial to me! I have never been on a budget and learned the value of being on one. I learned how to attack my debt and how I can come out on the other side of it. I learned to manage my money; not let my money manage me. I have confidence in my financial abilities that I didn't have before I took this class. This class will guide you to a place of security and contentment. It's all there. You just have to sign up, go to each session, do the work, and it will help you change your life! —Merry Keith
10 years ago, Leslie told me about a guy named Dave Ramsey and handed me his book, The Total Money Makeover. Reading that book, being open to becoming debt-free by following the Baby Steps (we paid off almost $100K in non-mortgage debt in 3 years), and with God's grace and guidance, our family tree is changed for generations to come! If we would have had access to all the resources that are now available in Ramsey+, our journey would have taken a lot less time and been a whole lot easier. We encourage everyone to connect with this program and watch God do amazing things in your life and in His Kingdom! —Patrick and Leslie
We started FPU January 2014, by April 2014 we had paid off over $10k in credit card debt, with the financial lifestyle changes we learned in the course. —Becky and Ronnie